Back to News
Inasmuch Foundation Awards $130,000 in Grants Focused on Food Security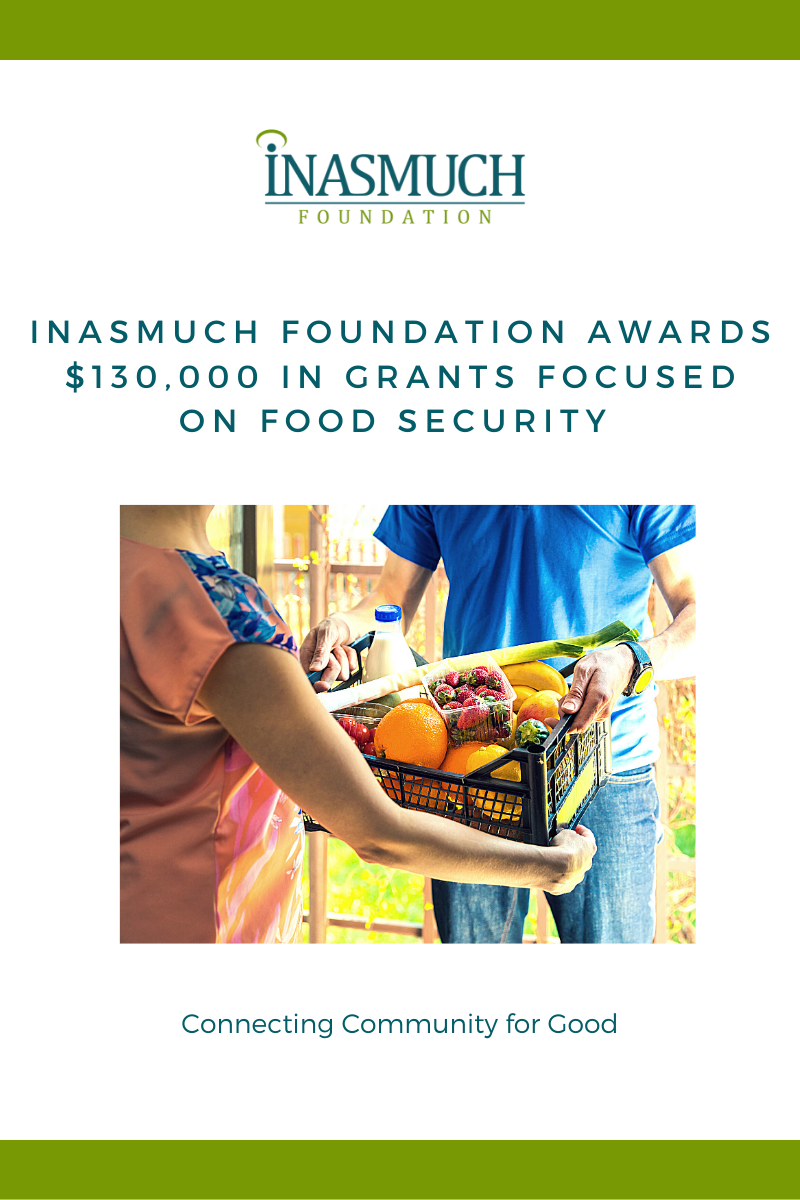 We are excited to announce emergency grants totaling $130,000 to four organizations focused on food security.  As the COVID-19 pandemic challenges our country, state, cities, and communities, we continue to be amazed by the response from our local nonprofit organizations to step-up to meet their clients' needs.  

"We are proud to partner with Regional Food Bank, Hunger Free Oklahoma, Infant Crisis Services, and RestoreOKC" said Inasmuch Foundation Senior Program Officer, Sarah Roberts.  "These organizations are providing food and support to vulnerable families in Oklahoma City and beyond to rehabilitate local communities after the devastation of COVID-19."
$100,000 – Regional Food Bank to purchase and distribute food as they've seen an increase of more than 40 percent in new clients seeking food assistance across their partner agencies.   "We are grateful for the support of Inasmuch Foundation, who has been a faithful partner of the Regional Food Bank" said Cassie Gilman, Vice President of Development and Marketing for Regional Food Bank of Oklahoma.  "This grant will keep meals on the table for our many neighbors experiencing health and economic hardships caused by the COVID-19 outbreak."

$15,000 – Hunger Free Oklahoma to help coordinate meal delivery across the state and attract federal dollars to Oklahoma for food.  Hunger Free Oklahoma has been a leader during COVID-19 response working with communities and partners across the state to serve families in need.  "We are grateful to Inasmuch Foundation for their support of our COVID-19 response efforts and for their support of our partners whose work is crucial to the food security of the region" said Chris Bernard, Executive Director of Hunger Free Oklahoma. 

$10,000 – Infant Crisis Services to serve 100+ clients per day.  Every child under four is receiving a week's worth of formula, food, diapers, and wipes. "Infant Crisis Services is grateful for our partnership with Inasmuch Foundation" said Allison Parker, Infant Crisis Services Senior Development Manager.  "The emergency funding provided will go to work immediately providing essentials for babies and toddlers, who are most vulnerable citizens."

$5,000 – RestoreOKC to operate a grocery store with fresh fruits and vegetables in NEOKC, as well as an emergency food distribution site.  RestoreOKC is also providing support for seniors, and parents feeding their children despite lost employment.  "In moments like this we pivot fast, give generously and trust that the need we have will be supplied so that we can continue to serve our community" said RestoreOKC Director Caylee Dodson.  "We appreciate the Inasmuch support more than words, as to us it is faces seen and needs met for people we love and neighbors who've become family."

Inasmuch Foundation will continue to roll out emergency grants by invitation in the weeks and months ahead and we encourage you to visit our website for the latest information.  As always, if there is anything you would like to communicate to our team, please contact a member of our Program Team. 
Sarah Roberts - Sarah.Roberts@inasmuchfoundation.org
Alta Price - Alta.Price@inasmuchfoundation.org
Tyler Tokarczyk - Tyler.Tokarczyk@inasmuchfoundation.org